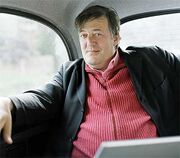 Stephen Fry is an English actor, screenwriter, author, playwright, journalist, poet, comedian, television presenter, and film director  known for his comedy duo with Hugh Laurie. He is the voice actor in Hitchhiker's Guide to the Galaxy narrating the Guide itself. He was probably chosed for this role because of his schoolmaster persona in the quiz show QI (Quite Interesting).
Ad blocker interference detected!
Wikia is a free-to-use site that makes money from advertising. We have a modified experience for viewers using ad blockers

Wikia is not accessible if you've made further modifications. Remove the custom ad blocker rule(s) and the page will load as expected.