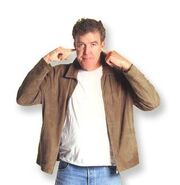 Jeremy Clarkson is a motoring "journalist" and "television presenter". A typical Yorkshireman, he ranks just above Bernard Manning in the "I'm a northerner so I can call everyone a moron" stakes.
He has presented numerous television shows, including Top Gear, Have I Got News For You, Motorworld and Clarkson's car years. The latter title is a reference to how old Clarkson actually is: despite the fact 50 is middle aged in human years, in fact thinks he is a car, making him long past retirement age in "car years". He likes to claim a pension because of this.
Claim to inFame
Edit
He is most famous for his two catchphrase, usually heard on Top Gear as he testdrives new cars:
- "MORE POWER!!!"
- "In the world..."
The latter is usually at the end of a sentence describing something's amazingness. Example:
- "I am so riduculously famous, because I have the biggest ears [pause] in the world..."
Ad blocker interference detected!
Wikia is a free-to-use site that makes money from advertising. We have a modified experience for viewers using ad blockers

Wikia is not accessible if you've made further modifications. Remove the custom ad blocker rule(s) and the page will load as expected.