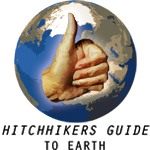 The Hitchhiker's Guide to Earth is a wiki written in the style of The Hitchhiker's Guide to the Galaxy, a fictional user manual to the Universe. A sister project of Illogicopedia, the wiki was founded by Huge_bob in 2008 as a developing source of information for Earth's hitchhikers (which, as you know, are prominent in Northern California). But seriously, we aim to provide a parody of the guide and various places while providing people with a laugh or two.
Our Mission
Our goal is to provide an exact representation of the guide while still providing people with a good laugh. Most articles are written in the style of the guide, and contain a lot of misinformation and satire. Which means that an article provides a detail of what it is, what in actually it is, and what it's ranked and what use is it. The articles also have sort of an alternate side of humor through the use of an AI we call "Barry Scott". Chuck provides a different sense of humor and also reminds the reader of the shames that the human race has embraced. So mostly we aim to parody the guide with misinformation, satire and a sort of alternate humor, we aim to aim the truth with some humor and a guide we found on the internet. Our database of information is small but feel free to sign up and contribute your information to The Hitchhiker's Guide to Earth.
Things you may want to know
Ad blocker interference detected!
Wikia is a free-to-use site that makes money from advertising. We have a modified experience for viewers using ad blockers

Wikia is not accessible if you've made further modifications. Remove the custom ad blocker rule(s) and the page will load as expected.